From the author of Speak Up, Show Up, and Stand Out & Fearless Leadership
Do you want to tear your hair out when people refuse to answer your question? You may be dealing with a dodger—someone who beats around the bush or throws up a smokescreen to avoid dealing with your question or concern.
Here is a two-prong approach for handling dodgers:
Spot dodging tip-offs. These phrases signal the conversation is about to be taken off course. If you can't spot them, you can't stop them.
Common Dodging Tip-Off Phrases:
"I have a different concern."
"This reminds me of…."
"My concern is…."
"This raises another question."
"The real problem is…."
"Your problem is…."
Intervene immediately. Don't let the dodger steer the conversation in another direction. Respectfully interrupt the conversation the moment you spot the dodge and redirect it back to your question or concern. See examples below.
Don't take the bait. Be smooth (and keep your emotions out of your response) and the dodger will have nowhere to go.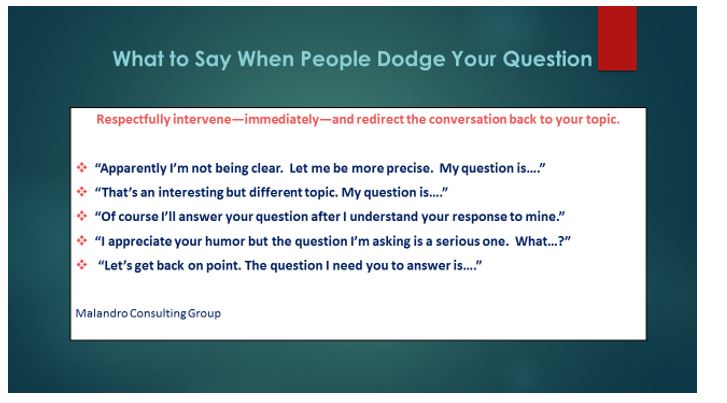 Dr. Loretta Malandro is the CEO of the Malandro Consulting Group (www.malandro.com) and the author of several landmark business communication books including: Fearless Leadership, Say It Right the First Time, and her new book, "Speak Up, Show Up, and Stand Out: The 9 Communication Rules You Need to Succeed".