This is the seventh of 10 blind spots that may be sabotaging your effectiveness.
Blind Spot #7—Conspiring Against Others. What it Means   
Conspiring is a strong but necessary word when it comes to describing this lethal blind spot.
People who conspire against others: 1) Actively participate in negative conversations about an individual/group that is not present, 2) Silently endorse negative comments about others by not speaking up, or 3) Attack others' credibility which raises suspicions.
The Downside of Building Silos and Camps 
Do you participate in deadly water-cooler conversations?  Do you silently endorse nasty attacks on others?  Do you influence others to agree with your negative viewpoint?
If you engage in conspiracies—actively or passively—you are on a guaranteed path of destruction. People will view you as a snake and shun you. Even your co-conspirators—the people who agree with you—will not trust you.  They know you will throw them under the bus in a moment and they're correct.
You'll lose it all—friends, trust, job promotions.
Do YOU Conspire against Others?   
Ask others to assess your behavior using the scale of 1 (rarely) to 5 (frequently).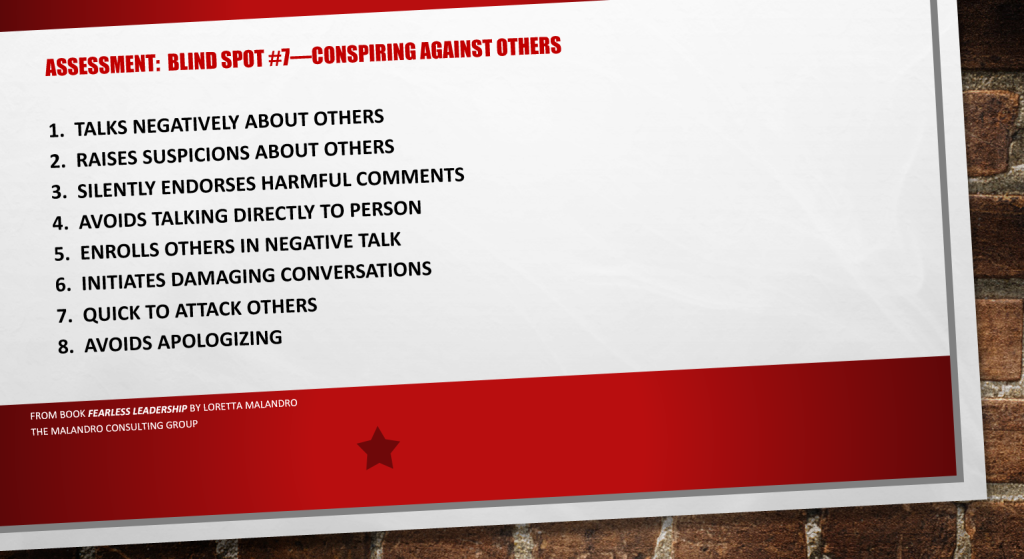 How do you rate?
32 to 40:    You are profoundly hurt, disappointed, and/or angry and it's showing in your behavior.  Stop! You are self-destructing.
17 to 31:    Sometimes you're good; sometimes you're horrid. Do you want this reputation? Apologize and get on a constructive path.
8 to 16:       You steer clear of negative conversations.  But do you stand up for others?
Want More?
Read the book Fearless Leadership and the anti-blogs on the 10 Blind Spots.

Dr. Loretta Malandro is the CEO of the Malandro Consulting Group (www.malandro.com) and the author of several landmark business communication books including: Fearless Leadership, Say It Right the First Time, and her new book, "Speak Up, Show Up, and Stand Out: The 9 Communication Rules You Need to Succeed".