This is the first of 10 blind spots that can sabotage your effectiveness.
Blind Spot #1—Going it Alone. What it Means
Do you believe that you should be able to handle everything by yourself? That it's your responsibility to keep the weight of the world on your shoulders?
People who view themselves as self-sufficient and responsible frequently fall into the trap of going it alone. Going it alone—shouldering the burden yourself and not seeking (or rejecting) support from others—is the #1 blind spot.
The Downside of Going it Alone
Do people trust you to be open and honest in good times and bad? High performance teamwork requires this type of self-disclosure, mutual support, and trust.
If you are a team member or a team leader who goes it alone, others will feel excluded and minimized. When people can't connect with the real and vulnerable you, they will comply, work around you, limit their contributions, and solve problems on their own without the benefit of your input.
Do YOU Go it Alone?
If you want the unvarnished truth, ask peers, direct reports, superiors, and your friends/family to assess you.
Directions: Use the scale of 1 (rarely) to 5 (frequently) to rate each item.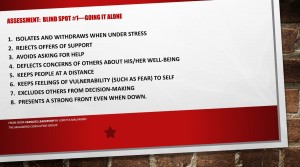 How do you rate?
32 to 40:    No debate—you go it alone.  Ask others for coaching and apply it.
17 to 31:    You go it alone in certain situations.  Discover what triggers you.
8 to 16:       You seldom go it alone but that's always room to grow.
Want More?
Read the book Fearless Leadership and the anti-blogs on the 10 Blind Spots.

Dr. Loretta Malandro is the CEO of the Malandro Consulting Group (www.malandro.com) and the author of several landmark business communication books including: Fearless Leadership, Say It Right the First Time, and her new book, "Speak Up, Show Up, and Stand Out: The 9 Communication Rules You Need to Succeed".